Secure Mechanisms for E-Ticketing System
Keywords:
ticketing system, secure distributed system, RFID cards, cryptographic authentication, encryption
Abstract
The paper presents a secure authentication and encryption scheme for an automatic ticketing system based on symmetric and asymmetric cryptography. Some concepts and terms used in development of secure automatic ticketing system are presented. It is depicted an architecture of the secure automatic ticketing system with its components and their roles in this architecture. The section five presents the authentication and encryption scheme used for secure information from RFID cards. The authentication scheme is based on RSA and AES algorithms and it is inspired from SSL. Parts of this paper are in publishing process in [6], but the authentication and encryption scheme is described exclusivelly in this paper. The necessity of authentication and encryption scheme is given by the attack described in [7].
References
NXP, MF1ICS50, Functional specification http://www.nxp.com/acrobat_download/other/identification/M001053_MF1ICS50_rev5_3.pdf
W. Stallings, Cryptography and Network Security, 3/E, Prentice Hall, 2003
D. Stinson, Cryptography – Theory and Practice, 2nd Edition, Chapman & Hall/Crc Publishing House, New York, 2002
C. Toma, Security in Software Distributed Platforms, ASE Publishing House, Bucharest, 2008
C. Toma, C. Boja, M. Popa, Solution for Non-Repudiation in GSM WAP Applications, The 7th WSEAS International Conference on SOFTWARE ENGINEERING, PARALLEL and DISTRIBUTED SYSTEMS (SEPADS '08), Advances on Software Engineering, Parallel and Distributed Systems, University of Cambridge, UK, February 20-22, 2008, pp. 212 – 219
M. Popa, C. Toma, Secure Automatic Ticketing System, WSEAS International Conference on DATA, NETWORKS, COMMUNICATIONS, COMPUTERS (DNCOCO '09), Baltimore, USA, November 7-9, 2009.
Gerhard de Koning Gans, Jaap-Henk Hoepman, and Flavio D. Garcia, A Practical Attack on the MIFARE Classic.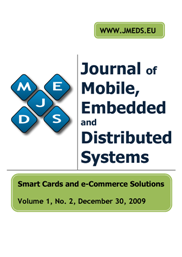 Downloads
How to Cite
Cristian, T. (2009). Secure Mechanisms for E-Ticketing System. Journal of Mobile, Embedded and Distributed Systems, 1(2), 81-94. Retrieved from http://jmeds.eu/index.php/jmeds/article/view/Secure-Mechanisms-for-E-Ticketing-System
License
Authors who publish with this journal agree to the following terms:
Authors retain copyright and grant the journal right of first publication with the work simultaneously licensed under a Creative Commons Attribution License that allows others to share the work with an acknowledgement of the work's authorship and initial publication in this journal.
Authors are able to enter into separate, additional contractual arrangements for the non-exclusive distribution of the journal's published version of the work (e.g., post it to an institutional repository or publish it in a book), with an acknowledgement of its initial publication in this journal.
Authors are permitted and encouraged to post their work online (e.g., in institutional repositories or on their website) prior to and during the submission process, as it can lead to productive exchanges, as well as earlier and greater citation of published work (See The Effect of Open Access).
The author(s) is responsible for the correctness and legality of the paper content.
Papers that are copyrighted or published will not be taken into consideration for publication in JMEDS It is the author(s) responsibility to ensure that the paper does not cause any copyright infringements and other problems.
It is the responsibility of the author(s) to obtain all necessary copyright release permissions for the use of any copyrighted materials in the paper prior to the submission.
The Author(s) retains the right to reuse any portion of the paper, in future works, including books, lectures and presentations in all media, with the condition that the publication by JMEDS is properly credited and referenced.
JMEDS articles
by
Journal of Mobile, Embedded and Distributed Systems (JMEDS)
is licensed under a
Creative Commons Attribution 4.0 International License
.
Based on a work at
http://jmeds.eu
.
Permissions beyond the scope of this license may be available at
http://jmeds.eu/index.php/jmeds/about/submissions#copyrightNotice
.